In all honesty, even being the makeup enthusiast that I am I still get confused as to what the difference is between a CC cream, BB cream and Foundation.
You've probably seen these three products countless times, and while many of us know what a foundation is, sometimes the additions of CC creams and BB creams can be a little confusing. They all look pretty much the same and are all applied to your face but what actually makes these three products so different that they deserve separate names?
What is a CC Cream?
CC cream can be is the shortened name for 'colour correcting' or 'complexion correcting' cream. These two terms sound very similar but they do have ever-so-slight differences, so if you're looking to purchase a CC cream then it may be best to fully research which products do what.
In short, it's pretty much a 3-in-1 product that promises to protect your skin through SPF and colour correct any uneven skin tone with its foundation-like abilities. Colour-correcting CC creams help minimise redness and brighten the skin, while complexion-correcting CC creams are typically used to give your skin an airbrushed appearance by smoothing the skin and minimising pores.
Benefits of CC cream
CC creams are geared towards those who are looking for products with anti-ageing properties, if you're looking to improve the appearance of fine lines you'll be wanting to reach for a CC cream as oppose to a foundation. Foundations are often known to do the opposite of smoothing fine lines and settle into creases if you don't set it down properly. If you do find your foundation too heavy and are just looking for some skin smoothing with little coverage, then you may want to pop a CC cream into your basket and give it a go. Similarly, if you're wanting to illuminate your dull skin and dark circles then reach for a CC cream can also fulfil your needs.
Who is CC Cream suitable for?
Just like any product, CC creams won't necessarily be suitable for all skin types, but if you have oily or acne-prone skin then they may just be the product for you. There are usually less oily components in a CC cream compared to a BB cream and more choice of oil-free formulas. CC creams aren't specifically designed to add hydration to the skin and work best for those who don't need any extra moisture adding to the skin.
it Cosmetics Your Skin But Better CC+ Cream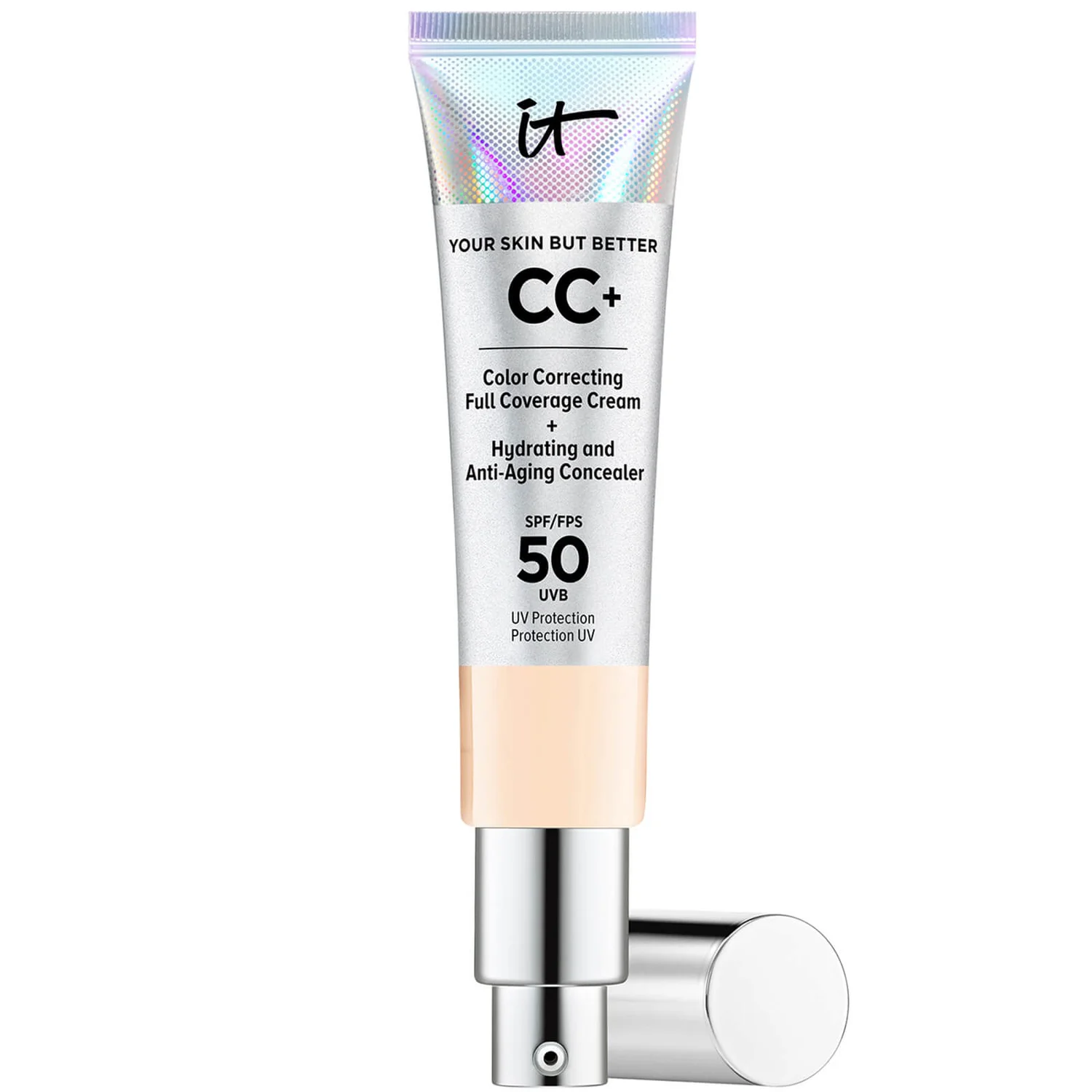 What is a BB Cream?
BB cream is pretty much the sister of CC cream. The term stands for 'beauty balm' and its main responsibility is to add moisture to the skin. Don't be fooled though, a BB cream is so much more than just your average moisturiser!
Benefits of BB Cream
BB cream shares similar benefits to CC cream as both usually contain skin protectant like antioxidants and vitamins as well as SPF. On top of these, BB cream is usually a moisturizing product that both brightens and firms the skin. Again, it's very much an all-in-one product that is perfect for everyday wear.
Who is BB cream suitable for?
If you're looking for the moisture that a BB cream gives, then you most likely have dry skin. BB creams are best for those with dry skin as they give you all the additional hydration you need while also introducing many other positive properties to your skin.
L'Oréal Paris C'est Magic BB Cream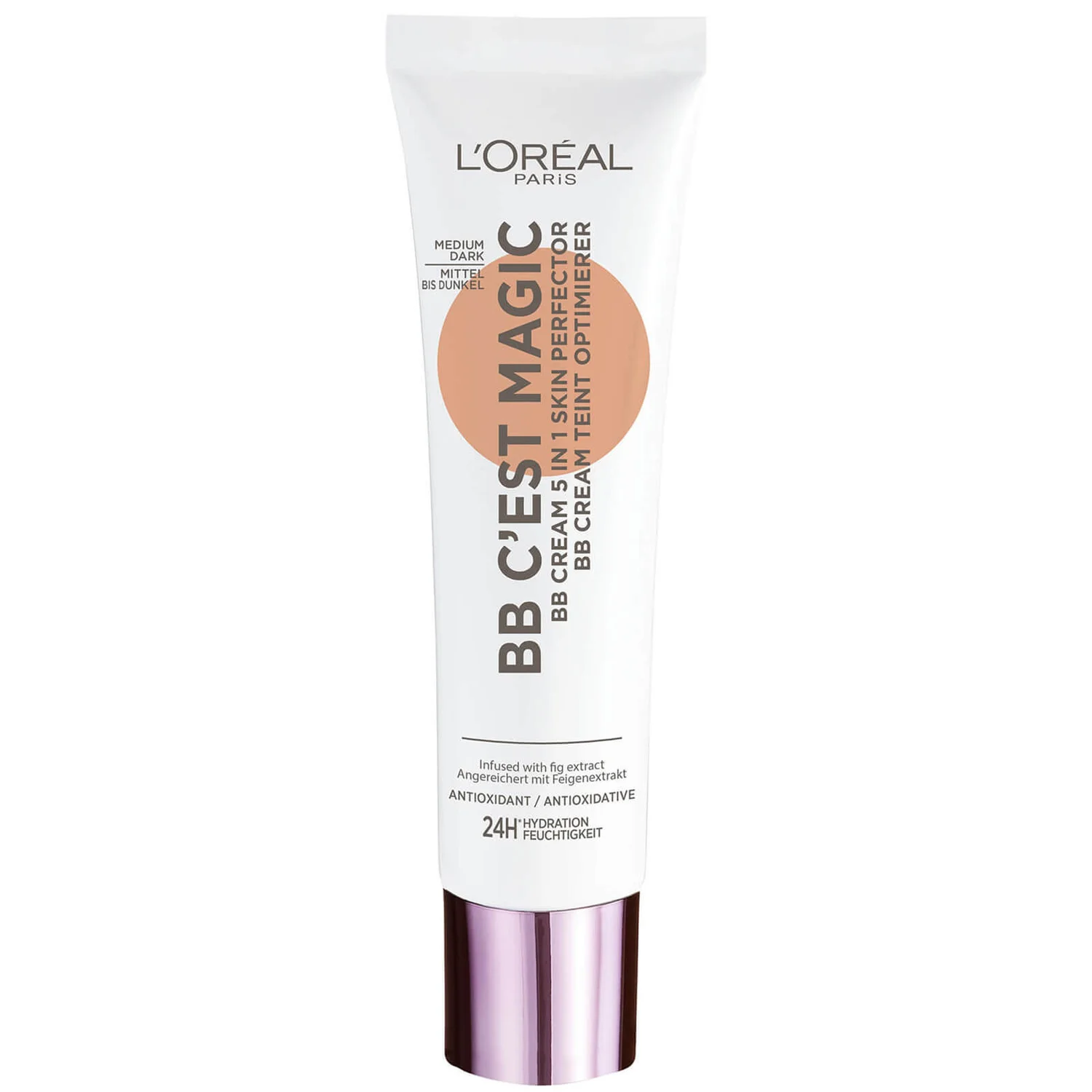 What is a Foundation?
If you're a makeup wearer, then you probably already know what a foundation is. Foundation can come in the form of a liquid, cream or a powder and are (mostly) chosen to match the colour of your skin. Foundation has a thicker consistency than both CC and BB creams due to it providing more coverage to even out skin tone and cover any discolouration or imperfections.
Even though CC creams and BB creams often get put in the same category as foundation they are not the same product. The truth is that the majority of foundations don't bring much else to the table in terms of positive ingredients for your skin. So, if you're looking for something more all-in-one and aren't too fussed about coverage then this is when you can ditch the foundation for and opt for only a BB or CC cream. Alternatively, you can place your cream underneath your foundation in place of a primer for the best of both worlds.
Likewise, if you're looking for a flawless full face, then you're probably best leaving the CC and BB creams to one side and focusing on foundation to give you an even, immaculate coverage.
There are so many components to foundation whether it be the type of coverage or identifying the best foundation for your skin type. This makes finding the perfect foundation for your skin a much more difficult than finding the correct CC or BB cream. Luckily (or perhaps not so luckily), most of us been exposed to foundation from a young age when we were caking our faces in a slightly too orange shade of dream matte mousse, so the chances are many of us are more experienced with picking a foundation.
Final thoughts
Ultimately, BB and CC creams are pretty similar in their ability to add good ingredients to your skin. If you have dry skin and are looking for a boost in hydration then choosing a BB cream is the way for you, whereas if you're looking for a product to smooth out your skin that also has anti-ageing properties then you will be better suited to a CC cream.
Foundation on the other hand usually doesn't have as many benefits for your skin but does give you a fuller coverage that is primarily used to create a flawless skin base for makeup to sit on.