Waterproof mascara is a godsend on those humid or drizzly days you need to be sure you wont be getting any mascara run, but when it comes to the end of the day its hard to know what the best way to remove waterproof mascara really is. You may find yourself urgently tugging at your lashes begging the product go but sometimes these waterproof formulas are really too good at doing their job.
I myself always favour a waterproof mascara formula for normal day to day use; who knows when I might burst out into tears at the cuteness overload of cute puppy on the street or get caught in an unexpected rainstorm – it's always nice to know you're covered no matter what may go on in your day!
However, how annoying is it when you come to the end of your day and all you want to do is easily wipe away your makeup, pull on your PJs and chow down on a huge bowl of pasta, only to find you're spending half the evening trying to was away this amazing stay-proof mascara that you only bought because it promised not to wash away! I mean, at least you know it's not going anywhere, ay? But no one wants to be loosing lashes trying to get the product off, no matter how impressed you are with its staying ability.
There is hope though, it is in fact possible to get rid of that waterproof mascara without the fear of ripping out any lashes, so let me tell you how!
Invest in the right makeup removers
Certain makeup removers are specially created to easily break down waterproof mascara formulas. Removers and cleansers that are infused with oil are typically better at ridding that stubborn waterproof mascara from your lashes. Waterproof mascara is designed to repel water, so using a water-based makeup remover just simply won't do the job you need it to do. The oil breaks down the molecules in the waterproof formula for you to easily wipe away the product without to much rubbing.
Top makeup removers for waterproof mascara
VICHY Pureté Thermale Waterproof Eye Make-up Remover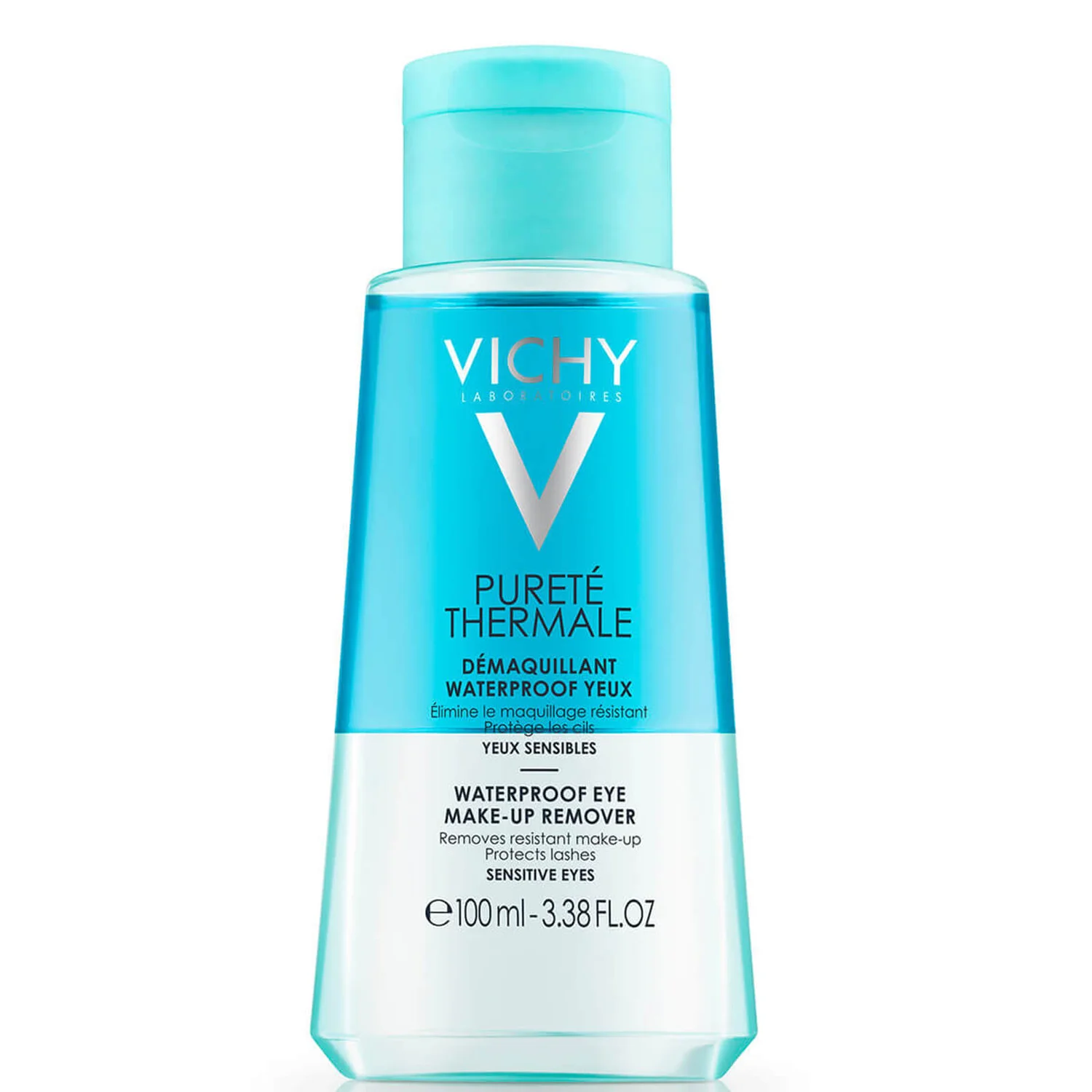 This product is beautiful for getting rid of that stubborn waterproof mascara. Specially created to easily break down waterproof formulas. It's oil-based formula is gentle on the skin leaving it feeling clean and smooth. I'm giving this a Beauty Answers 10/10 and would highly recommend Vichy Pureté Thermale for any waterproof products you find difficult to remove.
La Roche-Posay Respectissime Eye Make Up Remover for Sensitive Eyes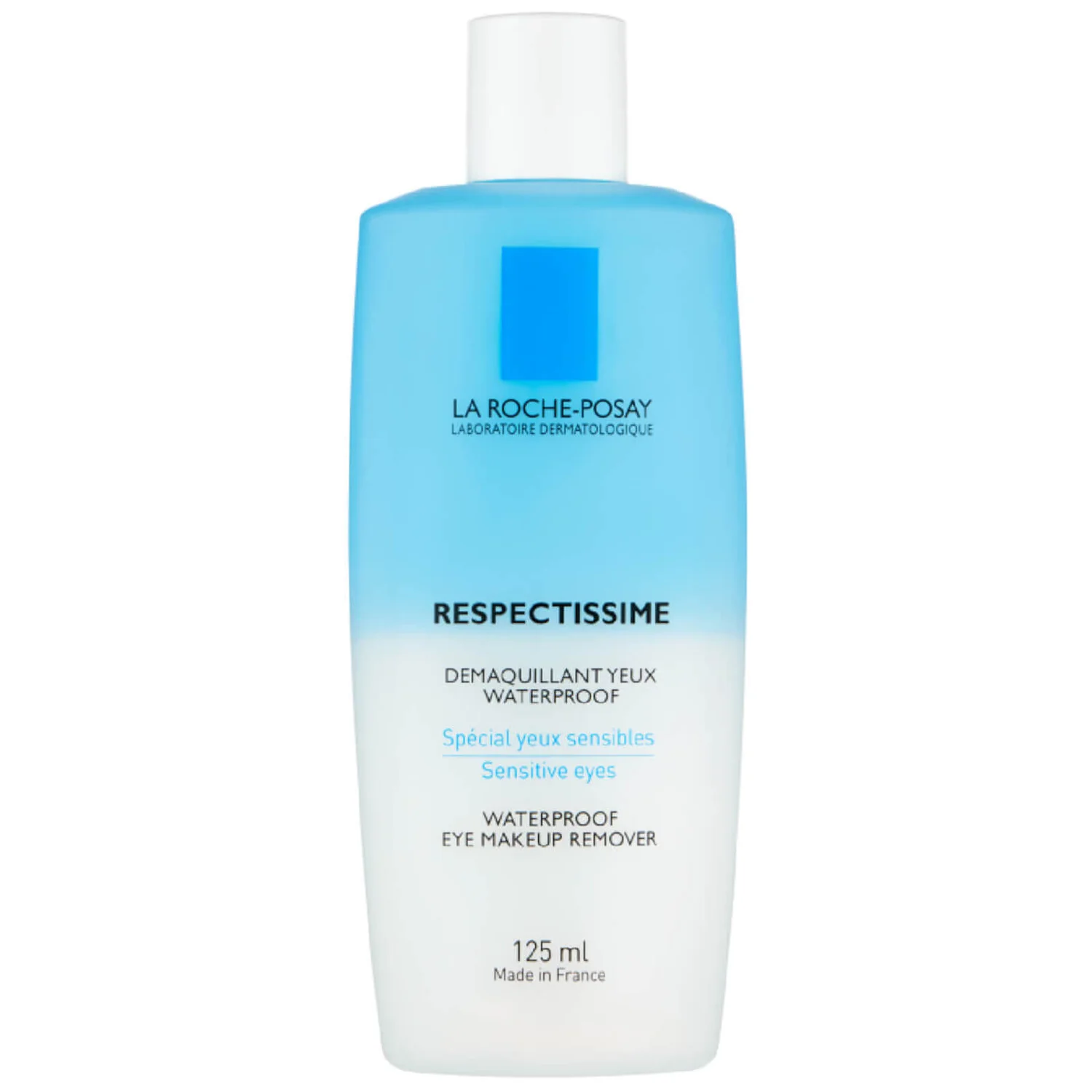 If you have sensitive eyes and are worried that removing stubborn waterproof mascara may irritate them, then here is the answer. La Roche-Posay makeup remover glides away waterproof formulas without being too aggressive on the skin. This product allows even those that are too scared to wear waterproof mascaras to shop the full range with the assurance that no matter what you buy, it can be removed easily and without irritation.
Glossier Milky Oil
Another superb option for hard to remove waterproof mascaras. Glossier products are full of great ingredients for your skin and this cleanser is no different. It doesn't feel too oily on the skin and leaves your lashes feeling brand new. Another product that melts away mascaras easily without having to rub away at your eyes.
How to remove waterproof mascara
You may need to spend a little more time removing a waterproof mascara than you would with a regular mascara formula, but patience is the key to keeping healthy lashes makeup free. Fully removing mascara from your lashes before the next time you apply your mascara will also create a much cleaner looking mascara application. The best way to remove waterproof mascara is to be patient and gentle with your lashes.
Step 1
Saturate a cotton pad with any one of the waterproof mascara removers mentioned here (there are more of course but these are one's I've personally tested). Hold over you eyes for at least 20 seconds to fully ,soak your lashes. You can gently wiggle it in a circular motion to loosed the product.
Step 2
Once the product has been loosened, gently wipe the cotton pad down your lashes, not across them, this should then remove the majority of the mascara from your lashes.
Step 3
Flip the cotton pad to the clean side, the makeup remover should have also soaked through to the other side of the pad. Go back over your lashes to remove any extra product, this time sweep under the lashes in slow upwards motion … again, not across as this will simply transfer old mascara across your lashes adding to the time the cleaning process takes.
Step 4
If your waterproof mascara is doing it's job just a little too well then you may need to repeat the steps above. Always make sure you're going in gently and not picking or pulling at the product on your lashes, you don't want to be too rough with your eyes and losing any of your lashes in your process or even pushing the mascara into your eyes.